Features
GreenBar HQ is the next generation event management application from the makers of BadgeTracker. All new from the ground up, it incorporates many new and enhanced features while retaining BadgeTracker's easy to use functionality.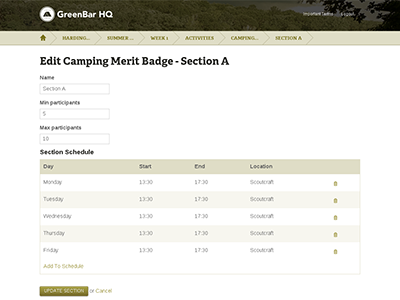 Powerful Activty Scheduling Engine
The core of GreenBar HQ is the activity scheduling engine. While providing extensive flexibility, it ensures participants schedules are conflict-free, and that Activity Sections aren't overfilled. The scheduling engine provides:
Activities that can have mutiple sections (classes) with distinct location, schedule, and optional class size limitations.
Support for activites for youth, adult, or all participants.
Age and/or rank requirements can be established for any activity.
Support for "By Appointment" activies.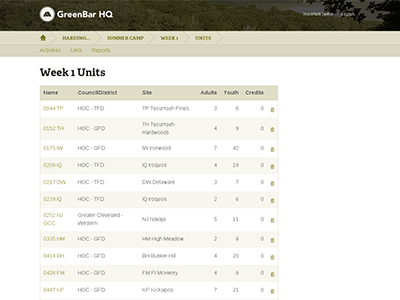 Unit and Individual Events
Some events are attended by an entire troop, crew, or team. Other events are organized for individuals. GreenBarHQ supports both formats.
Unit-based events support a unit leader managing the schedule of the unit's participants.
Unit leaders can optionally invite participants to manage their own schedules.
Units can be assigned resident locations at the venue.
Individual-based events allow the participant to fully manage their schedule independently.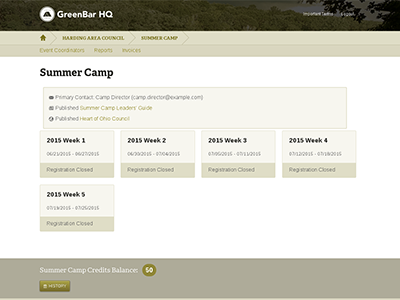 Event Groups
Within an organization such as a BSA Council, different events are managed by different teams. GreenBarHQ supports this with Event Groups, each with their own distinct team of coordinators, while providing organization level administration and billing contacts.
All Event Groups can leverage the common list of venues within the organization.
Credits can be transferred between Event Groups, so unused credits are never wasted.
A common billing contact can receive email notification of each invoice as credits are purchased.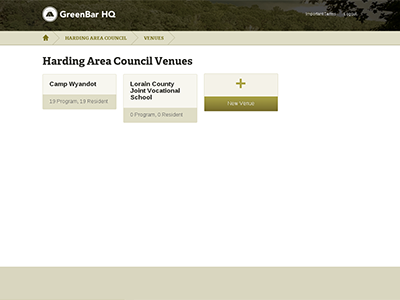 Unlimited Venues
With GreenBarHQ, you can develop a common catalog of venues at which events are held. There is no need to recreate lists of locations for each event.
In addition to activity program locations, resident locations can also be created.
Venues can be archived once they are no longer needed, without loss of historic data.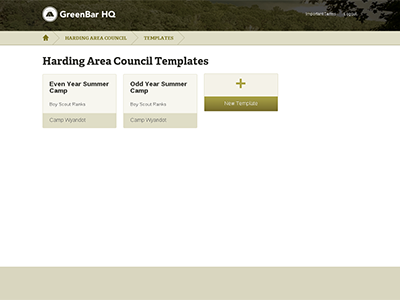 Schedule Templates
Having multiple events with the same activty schedule is very common. Many camps utilize the same schedule for each week of summer camp, and often carry the same basic schedule from year to year. GreenBarHQ allows you to save any event's schedule as a template, to be reused in any other event.
Unlimited templates can be created.
Templates can be edited independently.
Templates never expire, keep and reuse them as long as they are useful.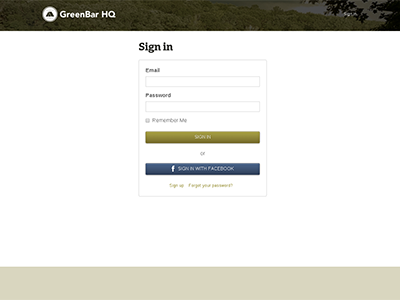 Unified GreenBarHQ Login
With GreenBarHQ, you don't need to remember a different login and password for each event you manage or attend. Your single GreenBarHQ account will give you access to every event to which you've been invited.
Your personal dashboard will allow you to easily access everything to which you've been invited.
You can easily connect your GBHQ account to your Facebook account for easy login.
As an event coordinator, you don't need to manage usernames or passwords. You can simply invite by email.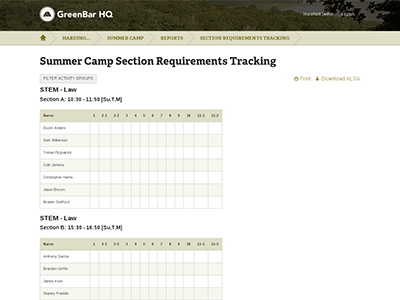 Ranks and Badges
GreenBarHQ supports ranks for Boy Scouts, Cub Scouts, and American Heritage Girls.
BSA Merit Badge Requirements can be linked to activities and a checklist for each section roster can be generated to track progress.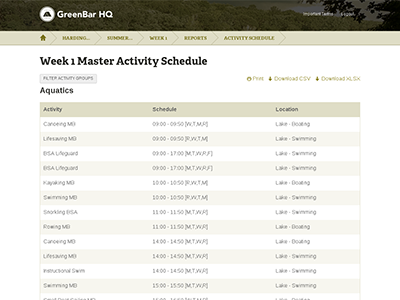 Reporting
GreenBarHQ provides extensive reporting functionality. Most reports can be exported in CSV or XLS formats. Reports can be run from the context of an Event Group, Event, or Unit, and include:
Schedules
Event Rosters
Activity Utilization
Activity Section Rosters
Badge Requirements Tracking
Unit Participants Schedule